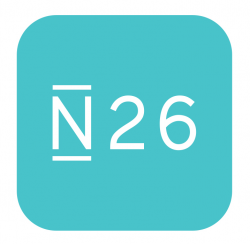 N26 (known as Number 26 until July 2016) is a German direct bank, headquartered in Berlin, Germany, that offers its services throughout most of the Eurozone and is expanding to the UK in 2018 and the US in early 2019.
N26 provides a free basic current account and a Debit MasterCard card for their customers. Additionally customers can request overdraft protection, investment products, and premium current accounts. The premium MasterCard product, referred to as N26 Black, is currently available in Austria, France, Germany, Ireland, Italy and Spain.
The account opening process can be completed via a video chat with N26's identity verification partner, IDnow, which according to its website takes about 8 minutes. Only holders of certain passports and ID cards can verify their identity online; others will have to visit a German post office if it is supported by Postident.